What Is The Sawtooth Effect Of The Blade
Views:0 Author:Site Editor Publish Time: 2018-03-17 Origin:Site
As the main model of low wind speed of Vestas, V120-2.0/2.2MW appeared in China Wind Energy Conference in October 2017.You must have noticed the following details: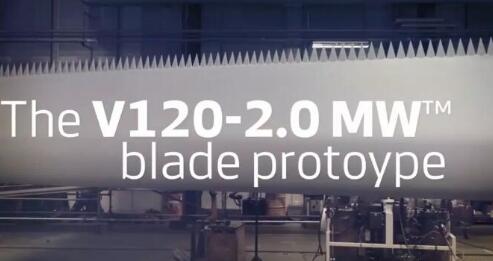 Yes, there is a sawtooth on the blade. Why do they use it? Noise reduction.

What is the principle? One of the main sources of wind turbine noise is air noise, which generate when high-speed airflow is passing through the blades. The outer part of the blade is the main part of the air noise, because there will be turbulence on the outside side. The sawtooth edge helps the mixing of air flow, reduces turbulence and reduces noise. Since 2015, Vestas has installed more than 2000 units of wind turbine equipped with serrated trailing edge, which do not affect the generating capacity and can effectively reduce the noise of 1-3 decibels. At present, all 2 MW and 4 MW models can adopt this design for Vestas blade technology.
In addition to adding serrated trailing edge, Vestas feathering technology OptiTip can adjust the blade angle at any time to suit wind situation.Also a large number of simulation and test of dynamic blade design will suppress the wind turbine noise when running.
The combination of above design, technology and the site selection of Vestas is Vestas's noise optimization solution, which was applied in China. Under the current situation of distributed wind power, more and more wind turbines will be installed near the power load area, and the control of noise is particularly important.
If you want to get more details on wind blade transportation trailers, please send email to szhyhy@hotmail.com, our team will give you reasonable design and best price to save your transport cost! Carol Hy.