What Is SPMT
Views:0 Author:Site Editor Publish Time: 2020-07-26 Origin:Site
The transportation of huge mechanical equipment depends on the module transporter, which can easily transport thousands to tens of thousands of tons of heavy objects.
This kind of transport vehicle is called self-propelled modular transport vehicle (also known as SMPT), which is mainly used for the transportation of heavy, large, high and special-shaped structures. Its advantages are flexible use, convenient loading and unloading, and the carrying capacity can reach more than 50000 tons in the case of multi vehicle mechanical assembly or free combination. It is widely used in equipment manufacturing industry, petroleum, chemical industry, offshore oil, bridge construction and other engineering fields.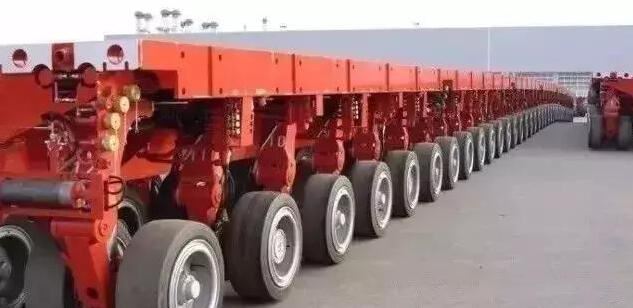 SPMT series is generally composed of 4-axle and 6-axle modules. Its features are equipped with power head (PPU), hydrostatic drive, electronic/hydraulic control multi-directional steering system, flat plate lifting by hydraulic system. It is especially suitable for offshore oil platform displacement. The flat plate can be lifted by lifting equipment and transported by container.
Self propelled hydraulic transporter is mainly composed of frame axle, suspension system, steering system, hydraulic system, braking system, power system, control system and other equipment. The frame adopts welded structure of high strength alloy steel box section, including main beam, auxiliary beam, cross beam, inclined support and end beam.