Do you believe that China Modular Trailer Successfully Transport 5200 Ton Of Ship And Refreshing Asian Record In The Field?
Views:0 Author:Site Editor Publish Time: 2016-09-13 Origin:Site
We are sure that you have seen that the ship was being towed on land, however, did you see 5200ton of ship was being towed? SPMT (Self propelled modular transport vehicle) is a new member of transporting heavy components. German TII group created one world record, that is, they transport 15000tons of oil platform with SPMT and error is only 2mm. Now, China is also in a good position to produce own SPMT (self-propelled modular trailer). Recently, SPMT being developed by our manufacturer carried a domestic 5200ton of ship and refreshed Asia record in this field.
China SPMT (154 axle lines) smoothly delivered ship of 5200ton, which means that China SPMTs became more and more mature and set up a solid foundation for the further development on the marine market.
SPMTs generally use hydraulic or electric drive, and can be combination of lots of multi axle trailer in order to carry heavy cargo.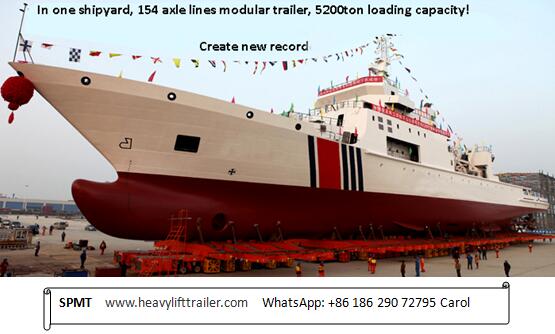 Carol HY szhyhy@hotmail.com +86 18629072795